Are you thinking about selling on Amazon in 2022? With the ever-increasing popularity of Amazon's marketplace, it is no wonder why many entrepreneurs are considering this platform for their businesses. 
But is it worth it? In this article, we will take an honest look at the pros and cons of using Amazon to sell products and provide an overview of how to get started.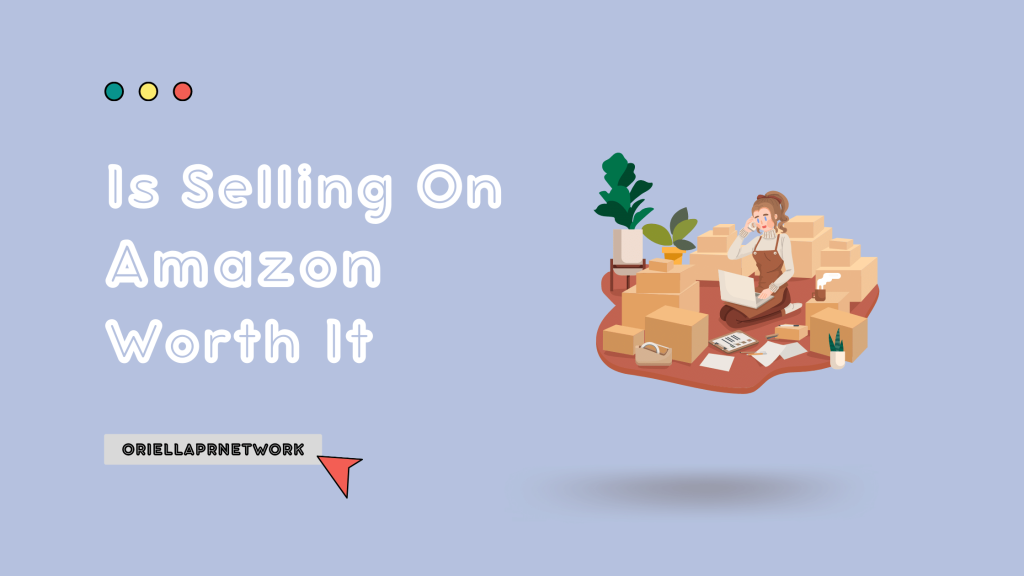 We will also discuss what you need to consider when creating a selling plan, the different types of services available through Fulfillment by Amazon (FBA), and how you can make money selling on Amazon.
Whether you are a beginner or an experienced seller, this article will help you decide if selling on Amazon is right for your business in 2023.
What Makes Amazon So Special?
No socially literate human in the 21st Century can say they haven't heard of Amazon. Amazon is a platform that is way ahead of its competitors. The platform hosts an active customer community whose numbers sum up to more than 300 million people.

Its community comprises customers from about 180 countries, and you can rest assured that there is never a lack of customer demand on the platform.
Among these 300 million customers, more than 150 million are paying for the premium services of Amazon Prime. This shows how much a percentage of customers on the platform can pay just for their trust in Amazon's services.
As an exciting seller fact, you may also want to know that small-to-medium-sized American Amazon sellers collectively sell more than 4,000 products on Amazon every minute.
Hence, what makes Amazon so unique is the trust and reliability it has built among its customers. Seeing this number of customers, it is unsurprising that many sellers keep trying to join the platform and become successful. Currently, more than 2 million sellers are associated with Amazon, and many more are queued up in the line.
So, if you wonder if this platform is unreliable or will cease to exist in time, you should throw that thought out of the window.
What Choices Do I Have as a Seller on Amazon?
When handling the sales operations of Amazon, you have two options.
1. FBM: Fulfilment by Merchant

Choosing the route of FBM is pretty much like handling and selling on a platform's subdomain. You will get to sell in the name of Amazon, but the experience will be similar to selling on your website. You will have to manage all the tasks related to selling your products. These include everything from maintaining inventory to shipping the ordered products.
2. FBA: Fulfilment by Amazon

On the other hand, with Amazon FBA, you get a chance to let Amazon handle all of these work processes while you get to think about new ways of increasing your sales and profits. You need to send your products to Amazon storage, which handles all inventory management and shipment.
Types of Fees That Amazon Charges
The final charges a person has to pay for selling on Amazon vary from each seller due to the different types of fees that Amazon levies on its sellers. The multi-layered fee structure of Amazon is something that any Amazon FBA seller needs to know in detail. Below are the six fees that Amazon FBA charges its sellers.
Monthly Inventory Storage Fee
The monthly inventory storage fee is the standard amount that depends upon the number of months that your product lies inside the fulfillment center of Amazon. The amount of your stored inventory is used to calculate the final cost.
Returns Processing Fee
Amazon handles the return process, too, when a customer returns your product. The customer does not have to pay for it as the product has a free return policy. But shipping the product to the customer and getting the product back to the facility costs Amazon. 
But Amazon does not cover this fee; the seller has to pay it. Hence, the return processing fee depends on how much your sold products are returned to the facility.
Long-term Storage Fee
If your products stay in Amazon's inventory for over a year, you get this fee in your bill.
Fulfillment fee
Amazon FBA charges you a portion of the fortune you make on each sale, which is the name it gives to that fee.
Unplanned Service Fee
When you send an improperly packaged or labeled product to the Amazon FBA warehouse, Amazon charges you this fee.
Removal and Disposal Fee
Often, you'll find that one of your products is a liability to you, and you'd like to get it returned from the inventory. For returning that product, Amazon will charge you removal and disposal fees.
Pros & Cons: Selling On Amazon 
In this section, we have given the pros & cons of selling on Amazon, and let's look. 
Pros:
Prime Shipping: When any seller uses the FBA to fulfill their order, your product will get the prime badge and have an access to Amazon sizeable which order from Prime Seller. 
Prime Members: The Amazon prime member gets access to more than 150 million which are spontaneously ordered on Amazon. 
Consumer Expectation: Consumers are going to assume your products as they have assumed you on Instagram. 
Cons: 
FBA Fees: The Amazon FBA fees depend on the weight and size of the product. The referral and FBA fees are 30 to 40% of the product price. 
Storage Fees: If you are storing your product on the Amazon fulfillment center using FBA you need to pay some storage fees. 
Is Selling On Amazon Worth it?
Now that you know everything you need about selling on Amazon, you might still wonder if you're making the right choice. A good practice to do for confirming that is comparing your business vision to the provision of Amazon FBA.
Look at the similarities in the business plans and whether they complement each other. For example, if you stick with selling on Amazon, remember that consistency will be your key to success. 
As in any other business, there will be times when your product inventory will be emptying with sales like never before, and there will be times when some of your products will move from one shelf to another for a long time.
But either way, selling on Amazon is quite a good choice as you get to sell on a platform that hosts the largest buying crowd on the planet, and the fee that it charges you for it is entirely justifiable and inexpensive.
Hence, by most chance, if you stay consistent with the quality and quantity of your products, you can become a great seller on Amazon and build a fortune off of it.
How much do Amazon sellers make?
Amazon sellers can make a lot of money, depending on the product they sell and how successful their sales are. Some sellers make thousands of dollars in profits each month, while others may only make a few hundred.
It is possible to increase your profits by selling high-demand items and utilizing marketing techniques like discounts or promotions. Additionally, Amazon offers its own fulfillment services that can help sellers reduce shipping costs and overhead expenses.
With the right skills and strategies, an Amazon seller can make a substantial income from selling products online.
Do I Need an Amazon FBA Course to Sell on Amazon?
Do I need an Amazon FBA course to sell on Amazon? The answer is yes and no. If you are a novice seller and have little to no experience with selling online, then an Amazon FBA course can be extremely beneficial.
This type provides you with the information and tools necessary to understand the Amazon marketplace and how to successfully list items, source products, manage inventory, and optimize listings. 
On the other hand, if you are already familiar with selling on Amazon or have been doing it for some time already, taking a course may not be as necessary since you may already understand these topics. But ultimately, it comes down to your preference and what kind of knowledge base you bring.
Related Read:
Conclusion
Selling on Amazon is a dream for many people in business. The platform is renowned in all parts of the planet, and its success gives more success to its respective sellers.
The doubt about whether or not the platform is suitable for selling your products can go away if you approach it with a data-driven mindset. For example, if you make the right choice and put in the required hard work and time, you might become the next known name on the list of famous Amazon sellers.