Since the start of the 21st century, E-commerce has created a buzz in the business world. Every day, goods worth millions of dollars are sold and bought online by people. According to a financial report, the total estimate of online sales by popular e-commerce platforms was over $2.7 trillion in 2020.
Every popular brand wants to sell its products on e-commerce websites simply because of the quick exposure to millions of online buyers.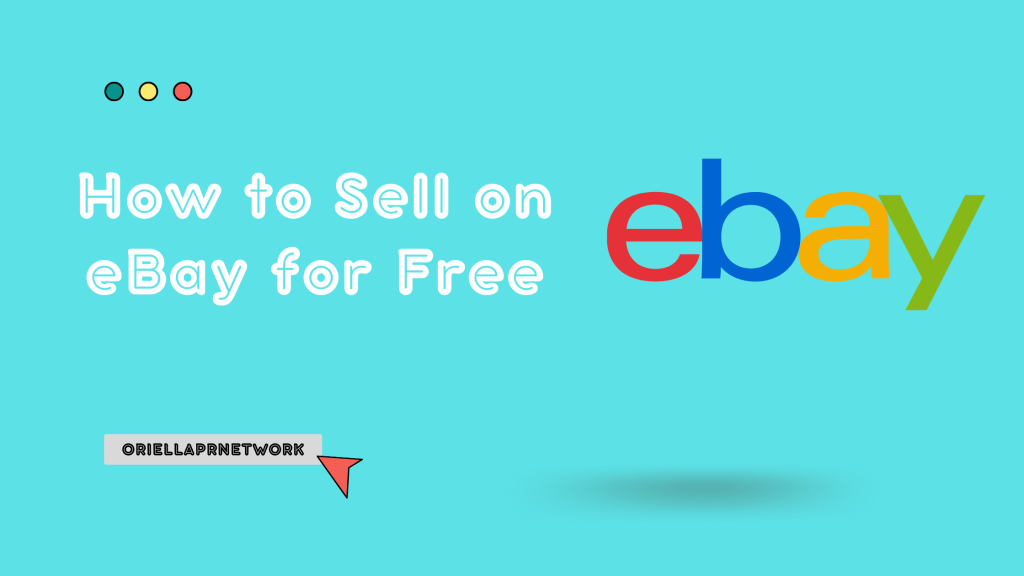 eBay is one of the top e-commerce platforms that has been around for over two decades. Starting in 1995, the platform has shown exponential growth in terms of the number of customers and finances. As of 2020, the company has over 100 million monthly visitors to its website and millions of buyers purchasing goods regularly. The platform provides business-consumer and consumer-consumer sales via the website.
Suppose you are an individual seller or a small enterprise looking to expand your business. In that case, eBay is the perfect platform to introduce your product to millions of potential customers without spending any money on advertisements. This article will explain how to sell on eBay for free and the basic requirements.
What is eBay, and how does it work?
Anyone can sell on eBay. All you need is an eBay account and products to sell. However, you are still required to have some pre-planning. Find out the top-selling products on the platform and which ones can be most profitable for you.

If you have already decided what to sell, go through the eBay Seller Policy to know what is allowed and what's not. eBay has different guidelines and policies for different product categories. It would be best to determine which category your product falls in and what measures to take before listing your items on the website.
Once you are done with product-related research, figure out other aspects such as types of payment methods you can accept, shipping and delivery method, and customer care you will provide to your buyers. Also, it's a good idea to go through the internet and find out the current price of the product you are going to sell so you can estimate the selling price, which will generate profit for you.
If you are a small business or casual seller, you don't need to spend much money to sell on eBay. However, there are some unavoidable expenses, such as shipping cost and customer service, along with some listing fee that needs to be paid to eBay if you list more than the allowed quota on a personal account.
How to Sell on eBay for Free? (Step-by-step)
Once you have done all the research regarding the product categories and eBay Seller policy, It's time to register on eBay as a seller. Let's check out the steps you need to take:
Choosing Your Account:
eBay offers two types of seller accounts – Personal Accounts and Business accounts. A personal account is right if you want to sell casually on eBay. The business account is more suitable for big businesses who want to establish themselves on the platform for the long run and sell in large quantities. The personal account is a more popular choice amongst the majority of sellers.
Registering Your eBay Seller Account:
Now, let's find out how to set up a personal seller account on eBay.
Step 1: Go to the official page of eBay.

Step 2: Navigate to the Sell option on the homepage and click on it.
Step 3: When you are on the Sell page, you can check out the information about how to list your products, payment options, and other seller policies.
Step 4: Go to the top right corner of the Sell page and click on My eBay. It will take you to the registration page.
Step 5: On the registration page, click on Create an account.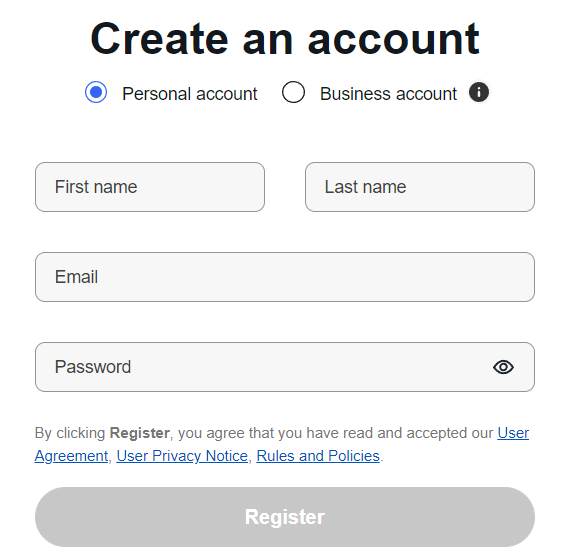 Step 6: Provide all the necessary details – Your full name and email address, and create a password. After that, click on Register.
Step 7: On the next page, you will be asked to provide contact information such as country, address, phone number, etc. Click on Continue once you fill in all the details.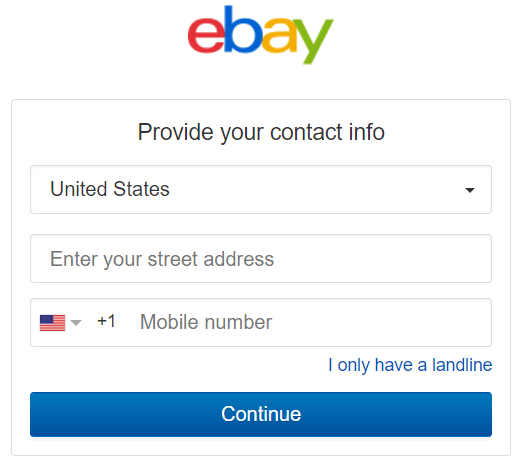 Step 8: You will be redirected to your seller page, where you can modify the details and check all the information regarding your seller profile.
Modify Your Account Preferences:
Once you set up your account, you can modify the details and add further necessary information from the dashboard. You can do this by clicking on your name on the top-left side of the screen. Select My Account, and you can see your eBay profile where you can:
Modify your Personal information – Name, Address, Email ID, and phone number.
Change Sign-in and security preferences – Password change, Link to Social media, Sign in history and preferences, etc.
Add/modify payment methods, add an automatic payment method, and link your PayPal account.
Access your Seller dashboard and add listings.
Creating Listings:
It's fairly easy to create listings on eBay. Once you are done with the product research and setting up your seller account and preferences, you are ready to add listings. Here is a step-by-step guide.
Click on Start Selling on your Seller dashboard page, and you will be redirected to a search page. You can also click on Learn the selling basics to learn more about the eBay selling process.
On the search page, browse for the product you want to sell. You can also search from the categories right below the search box.
After you find the product, you are redirected to the listing page, divided into three sections – Listing Details, Selling Details, and Shipping Details.
Listing Details contains the following parameters to fill up :
Title of your sales advertisement. You can choose to make it bold letters in the search results.
The subtitle to your listing. This section is optional but may increase buyers' interest in your item.
Product Category and Subcategory (optional)
UPC (Universal Product Code) is applicable
Product Condition – New, Used, etc
You can upload up to 12 pictures of the product. Make sure you upload high-quality photos with enough details.
Product specifications – Brand and MPN (Manufacturer Part Number)
You can add additional characteristics such as color, features, model number, country of manufacturing, etc
Item Description Item Description 
Selling Details consists of the following information:
Format – Fixed Price, Auction style, or Classified. As a beginner, we advise you to choose a Fixed price.
Duration – You can choose if you want to start your listing immediately or on a specific date and time.
Price, Quantity, and Payment options
Return policy
Shipping Details consist of the following details:
Domestic Shipping Details
International Shipping Details (optional)
Package dimensions (optional)
Product location (same as your address)
Click on the List item to List your product with all the details above. You can preview your listing details or save them as drafts for future use.
Can You Sell it for Free? Cost of Selling
Now, the question is: Can you sell on eBay for free? The answer is No. Although setting up an eBay seller account is free, there are certain charges to pay to make a sale. These are seller charges you pay to eBay for listing your items and selling them if you manage to sell them.
Insertion Charge:
eBay charges the sellers a certain amount as an insertion fee for listing the items on the website. This is a non-refundable payment you must make before the sale, regardless of whether your item sells. If your item doesn't sell before the listing period expires, you must list it again and pay the insertion fee. There is good news if you are starting to sell on eBay. The insertion fee is applicable only if you list more than 250 items monthly.
Final Value Fee:

The final Value fee is a cut that eBay keeps from every successful sale you make. When you complete a sale, you must pay 10-12.5% to eBay plus an additional $0.30 order fee.
Additional Charges:
There are a bunch of other payments you may need to make after the sale. For example, you will need to cover the payment processing fee for using a third-party payment gateway. You must pay the payment processing fee if you accept payments via PayPal. Additionally, if you opt for eBay's services for printing labels, packing, etc., you must pay the respective fees.
Selling on eBay: Pros & Cons
Pros:
Selling on eBay gives you a platform to reach millions of buyers.

You can list an item in minutes, with no cost for basic listing fees.

Access a wide range of global buyers.

eBay offers automated tools and programs to assist businesses with management.
Cons:
eBay fees are often higher than other marketplaces, so your margins may be lower.

The marketplace is competitive, so there's lots of competition for buyers' attention.

You may need to invest in a system to help you manage your listings and orders.
Can you sell on eBay with Shopify?
Yes, you can sell on eBay with Shopify. Shopify is a powerful ecommerce platform that makes it easy for businesses to create and manage an online store. Shopify integrates with eBay, allowing you to list your products on the marketplace and easily manage orders from within the Shopify dashboard.
With eBay's expansive reach, selling on the platform can greatly increase your sales and grow your business. Sign up for a Shopify account and connect it to your eBay account.
You'll then be able to create listings, manage orders, track inventory, process payments, and more from within your Shopify admin area. Selling on eBay with Shopify is an excellent way for businesses of any size to expand their customer base and reach new customers around the globe.
Do People Still Use eBay?
Yes, people still use eBay. It remains a popular marketplace for both buyers and sellers. eBay offers free shipping options that make it easy to sell your product on a budget. When creating an item listing, you can choose from several shipping options, including international options.
Many products are available on eBay, ranging from clothes to electronics. To further expand your eBay business, consider offering discounts or coupons when customers purchase multiple items. By doing so, you can increase sales and build customer loyalty.
People continue to use eBay because of its wide range of products and convenient shipping options, making it a great place to find what you need or make money by selling items online.
Make the Most of eBay:
Here are some practices you can use to up your game on eBay and establish yourself as a prominent seller on the platform:
Go through eBay policies regularly and make changes according to them. Don't violate eBays policies at any cost.
Take buyers' reviews seriously. Always respond to them with a positive attitude. Also, ask your buyers to leave feedback if they are satisfied with your service.
Once you get hold of the eBay platform, check eBay Seller Hub, which provides various tools to plan strategies and advance your business.
eBay is different from Amazon. It's possible on eBay to earn more than the product's retail value. Mark the price accordingly.
You can download the eBay application on your phone to have access to your seller account all the time.
Related Read:
The Bottom Line
Suppose you want to sell online and make a career in the E-commerce arena. eBay is an exquisite platform to start with. Compared to Amazon, it has lenient policies and offers a business environment that is extremely easy to get hold of.
Yes, it will take a little time and patience before you start improving your listings and making a profit, but at the same time, you will get to learn the fine details about E-commerce and entrepreneurship, that too, at a reasonable price.
FAQ: Selling on eBay for free
Is it hard to sell on eBay?
Selling on eBay can be a great way to make extra money, but it's not without its challenges. It can require a lot of time and effort to create attractive listings, take photographs of your items, answer customer questions, and ship packages.
Additionally, you don't always have control over the environment in which you're running your code, so it's important to write code that can adapt to different configurations. Writing resilient code that can handle various conditions helps ensure that your application will run properly no matter where or how it's deployed.
Is it safe to sell on eBay?
Yes, it is safe to sell on eBay. The company has a strong track record of providing users with a secure platform for buying and selling goods. All payments are securely processed through PayPal, keeping your financial information safe. Also, eBay has a comprehensive buyer protection policy covering any disputed orders or items not described.
If buyers have issues or disputes with their order, they can contact eBay customer service and get help resolving the issue. eBay customer service can assist with various topics related to buyers' orders, such as delivery issues, payment problems, item quality or description disputes, and any other issues that may arise.
Can I sell on eBay without a PayPal account?
Yes, it is possible to sell on eBay without a PayPal account. However, it is highly recommended that you use a PayPal account as it is the most secure and convenient way to receive payments and manage transactions. If you do not have a PayPal account, other payment methods are available such as using credit cards or bank transfers.
What is the average selling time on eBay?
The average selling time on eBay can vary greatly depending on the item sold and the current market demand. Generally, popular or high-demand items may sell within a few days or weeks, while less popular items may take several months.
How do I sell on eBay without inventory?
Selling on eBay without inventory is possible by using drop-shipping services. Drop-shipping is when a third-party company stores and ships products to customers on behalf of the seller. This means that the seller does not need to purchase any inventory but instead lists items from the drop-shipper on their eBay store and takes payment from customers.