An Amazon storefront is a powerful way to run an online business. Whether you own a high-reach brand or a small business, Amazon's vast reach makes promoting your brand and products effortless.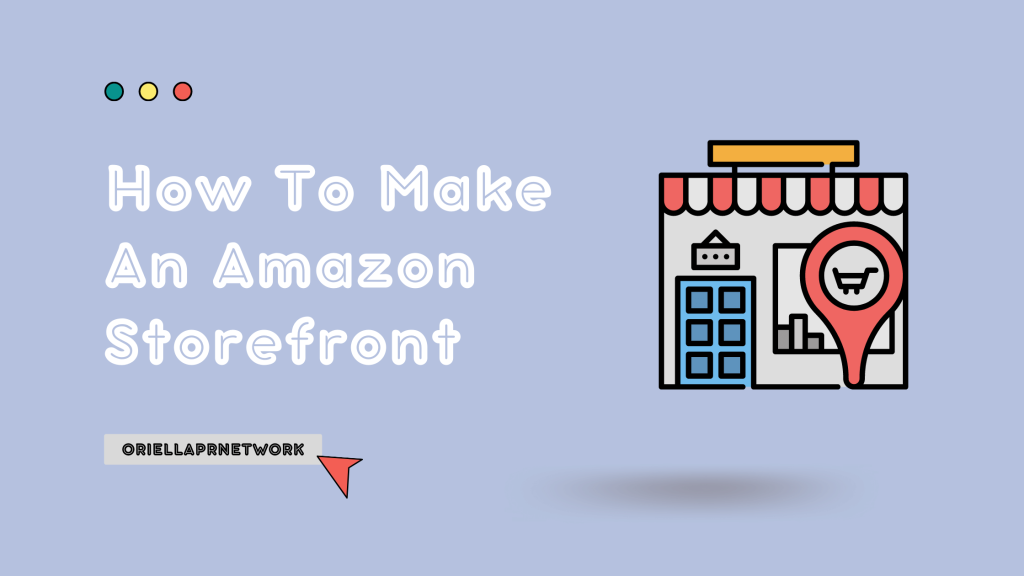 If you are a newbie looking to build an Amazon storefront from scratch. This article will make your journey a lot simpler. The first step to building an online business is deciding on its platform, and there's no better choice than Amazon for an eCommerce platform.
The benefit of choosing Amazon is creating a storefront by following a few simple steps. This article has all the necessary steps toward building a successful Amazon storefront to make this procedure super easy for you.
So without wasting further time, let us quickly plunge into the article.
Make a Sellers Account
As a beginner, the initial step to making an Amazon storefront is creating a seller account on Amazon, submitting it, and waiting until your account gets approved. Below we have mentioned all the steps you need to follow.
8 essential steps to create an Amazon sellers account:
Step 1: Enter your professional account name.
Step 2: Provide your business address.
Step 3: A tax identification number.
Step 4: Provide a document to verify your identity.
Step 5: Enter bank statement details.
Step 6: Provide your payment credentials.
Step 7: Fill out your bank account details for weekly down payments.
Step 8: Patiently wait till your Amazon account gets approved.
Apply at Amazon Brand Registry
Enrolling in the Amazon Brand Registry will ensure the security of your brand and products. In addition, it will protect your storefront from wannabe brands trying to imitate your products by offering you inspecting and reporting tools.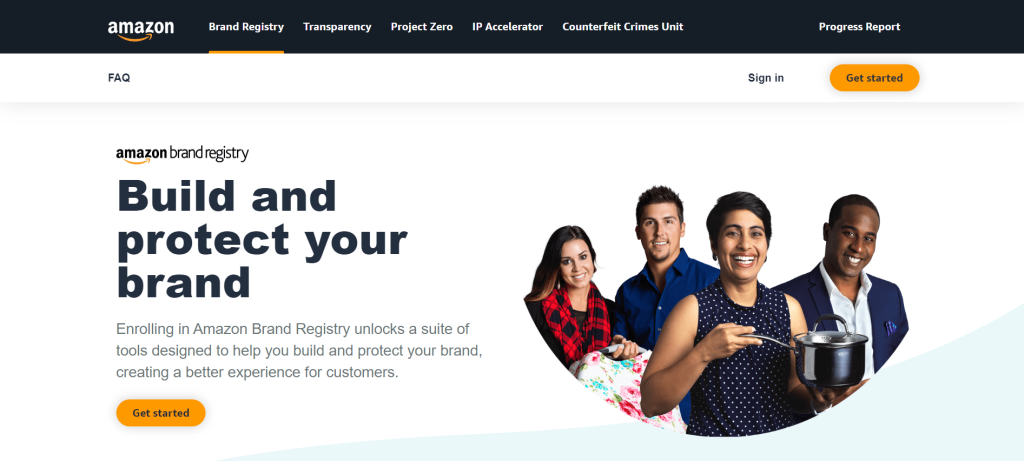 It is only available to the brands that manufacture their products. Therefore, you cannot apply for Amazon Brand Registry if you own a reseller brand. However, you can access their powerful tools to search for product categories, better marketing opportunities, and other marketing features to increase your store sales once you are registered.
To enroll in the Amazon Brand Registry program, you will need some preparation beforehand, like a registered trademark brand name, registered serial number of your brand, a list of the countries where your products are produced and sold, etc. Nevertheless, the process is quite simple, and the benefits you get from it are immeasurable.
Create a Store
The next step is to build your store. First, create your store home page and other pages using ready-made templates. Next, you can go to the "Manage Stores" section, located in the Sellers Central area. Select a theme for your homepage and store template, and you are all set.

You can also customize your template by using the 'drag and drop' feature, including videos, text, and photos. Create highlights for your essential products and best sellers. In addition, you can create a short video on your homepage, in which you can include the story behind creating your brand and introduce some people who are behind the success of your brand. It will help you in building the trust of the customers.
Add your Brand's Information
Providing your brand's information is an essential step you need to follow to build an Amazon storefront. Before you move ahead, Amazon will ask you to fill out your brand's credentials, like its name and logo. The brand name and logo will eventually become the identity of your Amazon storefront.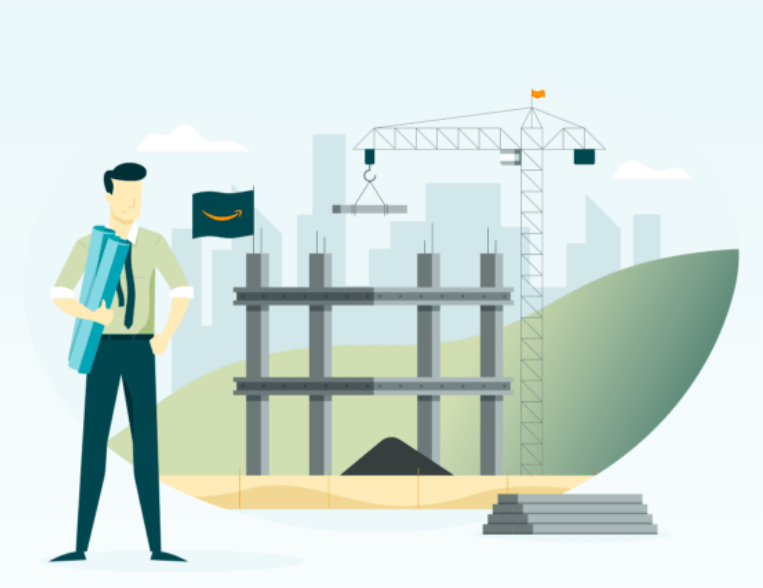 The name that will represent your brand is displayed on your storefront. The brand display name should be associated with your brand's official name so that it is easy for customers to find and recognize your brand.
Your brand logo will also appear on your Amazon storefront. So make sure to upload an image of 400 x 400 pixels. Although you can change your setting anytime to hide your brand logo, keeping it on display is advisable as it is easy for your audience to recognize your Amazon storefront.
Build A Custom Based Amazon Store
Once you have picked a design for your Amazon storefront, it is now time to design your store the way you want. Depending upon the design you have selected, you will see a sequence of tiles. You can customize these tiles with text, photos, videos, and products using the drag and drop feature.
Text tiles can be edited with bold, italicize, and aligned according to your preference. In addition, you can also add product links or page links directed to your store to these tiles. These tiles also have the central tile to which you can add an image of at least 3000 x 600 pixels. For example, you could use this tile to represent your brand and sale offers and your brand's best sellers.
Create different Content Tiles
Content tiles are sections that provide your customer with all kinds of information about your brand. You can create different content tiles for your Amazon storefront that the browsers can interact with using images, videos, galleries, or products.
The essential part of creating content tiles is making suitable well-informed tiles, so your customers have a user-friendly experience while exploring your Amazon storefront. Furthermore, it will ensure your customers are not confused and somewhat satisfied with the shopping experience, which will build you a loyal customer base in the long run.
Select and customize your content grids that make your brand look high-professional and attract people's attention.
Add products to your store.
Adding products to your store is a crucial step. However, before piling up goods in your Amazon storefront, you will have to add products to your Amazon seller account. You can add products one by one or add them all together. For a better and smoother experience, we recommend adding products in bulk.
You can add products in three easy steps- login to your Amazon seller account, click on 'Inventory' from the navigation menu, and select 'Add product' for a single product and 'Add products via upload' to upload multiple products.
After finishing the product upload, you can complete the rest of your Amazon storefront. Start by heading to the Product tile, which will direct you to the search bar where you can search your products by entering a keyword or ASPIN. You also can click directly on the Search button, and Amazon will display your complete product catalog.
Widen your storefront by adding pages
Adding various pages to your Amazon Storefront will help users explore your store. Customers are more likely to purchase if your store has simple navigation, as it becomes easier for them to look for products.
You can organize your Amazon storefront into different parts like new releases, best sellers, deals and sales, etc. These categories make it quicker for customers to find what they are looking for.
You can add new pages to your Amazon storefront in 4 easy steps;
Click on the 'Add Page' option from the left-hand menu in the Store-builder section.
Add a navigation title to your page; this will appear on your Amazon storefront's navigation bar.
Fill in the description of your page and what it will contain.
Select a template for your page from the Product grid, Marquee, and Product highlight.
Preview Your Amazon Store
This step comes in handy to avoid any mistakes before officially launching your Amazon storefront. To preview your Amazon Storefront, just click on 'Preview' from the amazon navigation bar, and you can check out how your Amazon storefront will look to the audience.
You can also double-check if all elements, such as links and videos work. Finally, before launching your Amazon storefront, you all ask other people to check it out and give feedback.
Set your Amazon Storefront in Motion
You can set it in motion after you are entirely done with building your Amazon storefront. You can launch it by clicking on the 'Submit for publishing' button, and Amazon will review your storefront and sanction your storefront within 72 hours. Keep an eye out for any notification from Amazon suggesting changes so you can launch your Amazon storefront as soon as possible.
Advertise your Amazon Storefront.
After launching their Amazon storefront, people make a common mistake: they forget to create a good marketing strategy. To generate significant revenue from your Amazon storefront, you need proper marketing. Although Amazon has a great reach of its own, it has millions of sellers. To make your brand or product stand out, make sure to market it in your close network, Social media, business groups, etc.
Related Read:
Wrapping Up!
That's a wrap! This article was our take on how to make an Amazon storefront. Today, It is considered one of the most popular and influential eCommerce platforms. If you use it strategically, you can generate high-scale profits.
Creating an Amazon storefront is super-easy with the help of all the valuable tools and functionalities that Amazon offers. The steps mentioned above are all you need to build a Successful Amazon Storefront.
We hope we have helped you understand the process of creating an Amazon storefront. So what are you waiting for? Go and make your Amazon storefront today!
Over to you, is Amazon your first choice to run an online store? Let us know in the comment section below!