Selling on Amazon is not what it used to be. With increasing competition, many sellers are looking to certify themselves and learn tricks and hacks to sell on Amazon.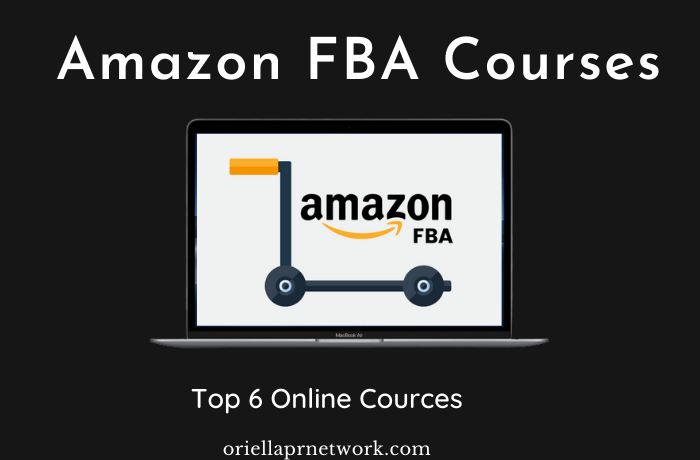 Are you looking for an Amazon FBA course to help you with Amazon selling? Are you confused about which course to choose? Don't worry. We have got you. With our top 6 best amazon FBA courses, you will easily make a wise and smart buying decision. 
Why do I need an Amazon Seller Training?
With the growing E-commerce opportunities, many users are coming up with innovative ways to sell their products.
Many users want to know more and learn E-commerce; this is why you will notice growing courses in E-commerce. The main reason for you to need an Amazon seller training or a course in E-commerce is that they teach you E-commerce skills in a short time. 
After thorough research, we have come up with a list of TOP 6 Amazon Courses For FBA 2021 for you to help you save time.
Best Amazon FBA Courses in 2021:
1. Marketplace superheroes 2.0
Marketplace Superheroes 2.0 is a beautiful course on Amazon at an excellent price. This course was created by Robert Rickey and Stephen Somers, who has put in a lot into this course to stand out amongst others. This course's primary focus is on product sourcing because it is the foundation for anyone to be selling on Amazon.
Without a great product, you will be lost. Therefore, they have designed a course for you with product sourcing as the base to help you out. With the right product, they believe you can be very successful, but without it, no matter how much you invest, you will not make anything.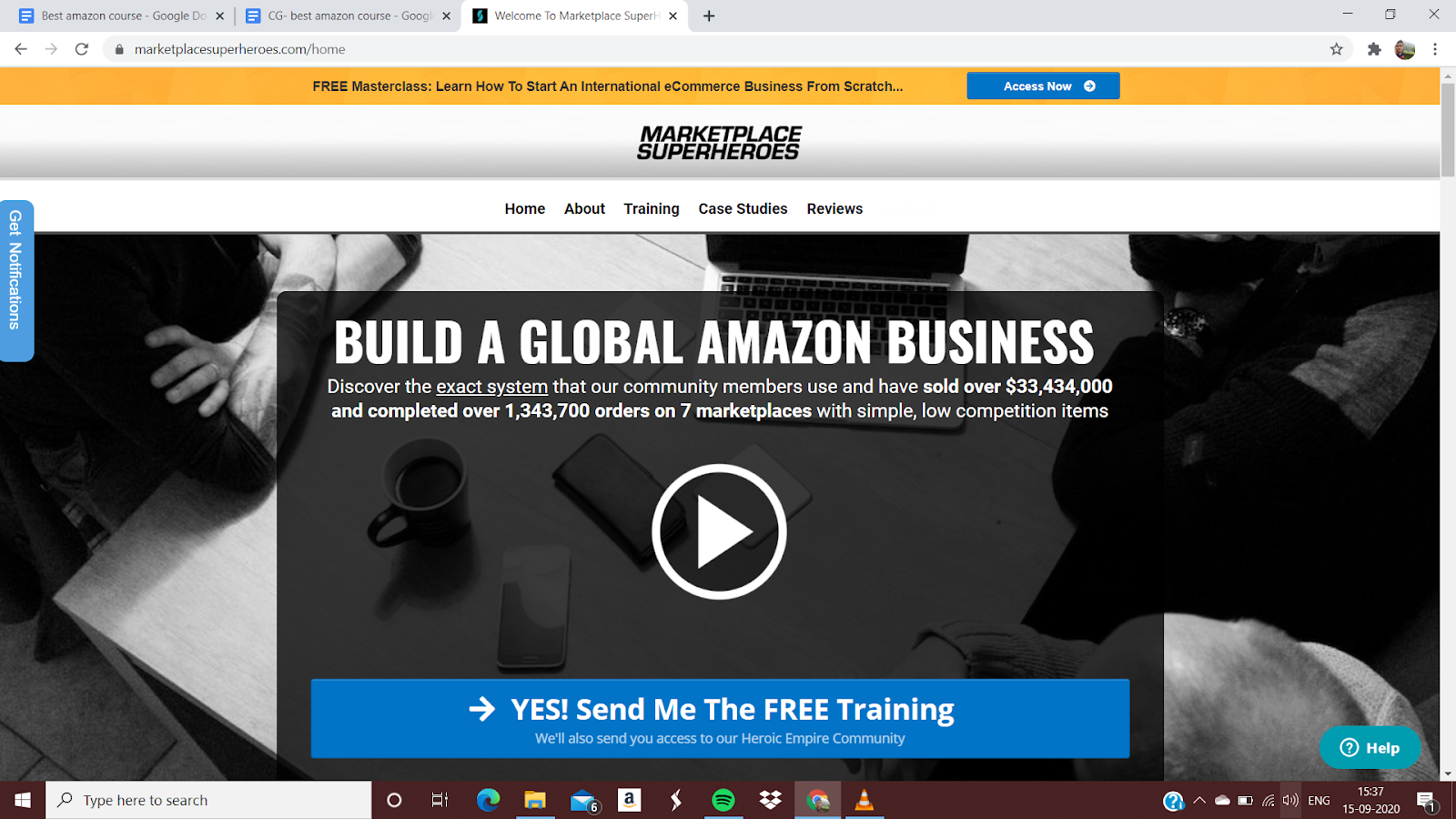 The most significant advantage of taking up this course would undoubtedly be its fantastic pricing. With most Private amazon courses ranging from $2000 to $ 5000, this is an affordable course for sellers.
Marketplace superheroes are a great course that offers you step by step learning on building a business on Amazon from scratch. You also get access to their excellent 4S product finder. They have something called the MPSH mastermind that will give you access to their Facebook group with more than 5000 members. 
The package includes numerous case studies, videos, and discounts as well for users. This is designed not for specific users but for anyone who wants to start an Amazon business globally. The pricing is quite affordable, it costs $ 997 for a year, but if you wish to pay in installments, you will have to pay $ 97 per month for a year about $ 1164. They have a great 7-day free trial for you and an incredible 30 days money-back guarantee.  
2. Amazing Selling Machine
One of the most elite courses for selling on Amazon, an Amazing selling machine has quite a hefty price. Priced at almost double the normal range of courses, it offers you complete solutions for your needs.
With Amazing Selling Machine, you get more depth and more knowledge compared to any other course. They have excellent results on users. They proudly claim to have success with a lot of their students reaching 6, 7, and 8 figures selling on Amazon.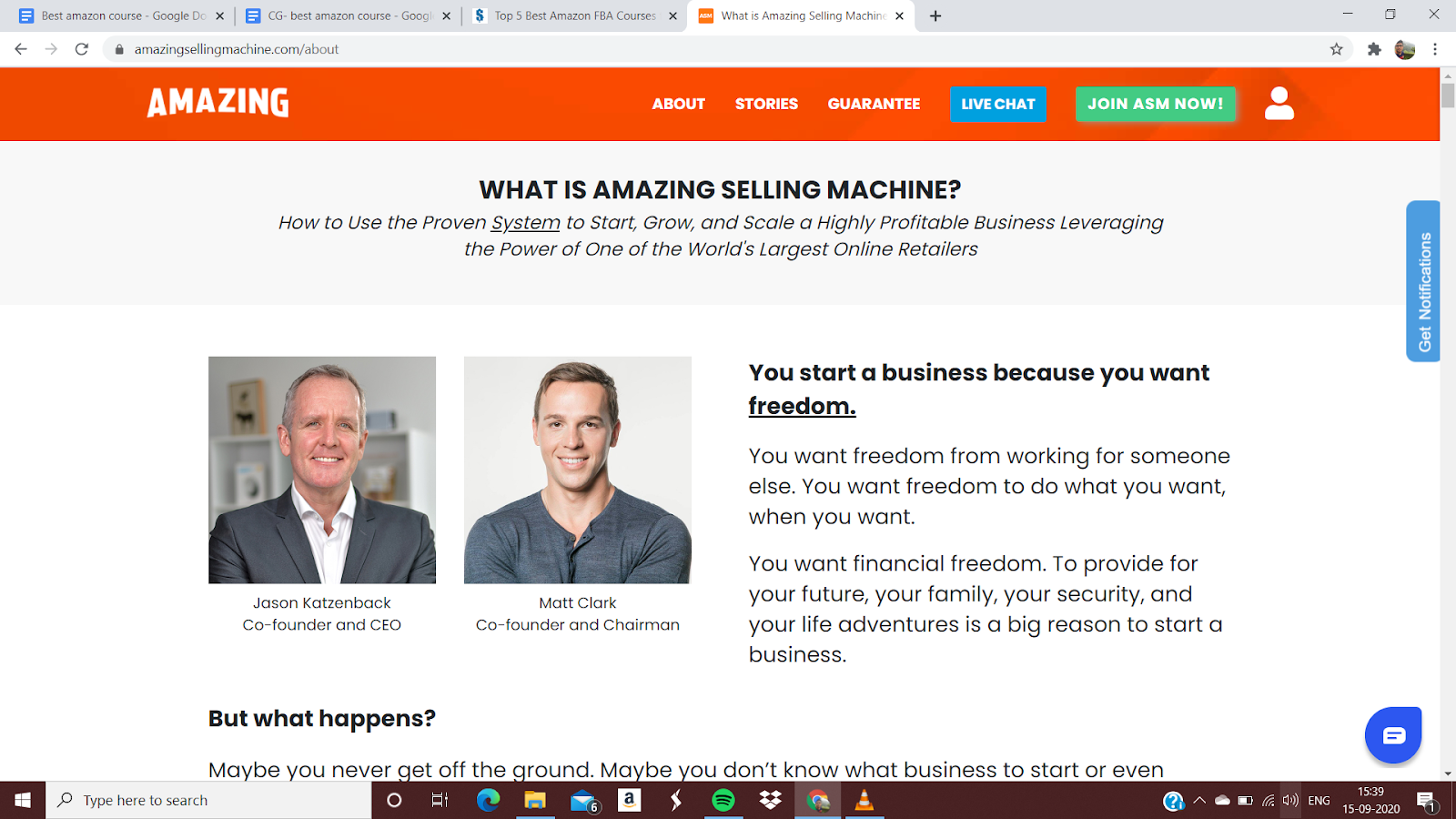 They have more bonus content than any course will offer. If you want to be on top and be a leading seller on Amazon and afford the price, this is the go-to place for you. They have some free training videos to check out on their official page to know how much quality content they provide for their users.
This course is especially for those who are hungry to create their private label on Amazon. Preferably the U.S also supports International Sellers. Started by Matt Clark and Jason Katzenback in 2012, this course has come a long way to be one of the best sellers.
This course costs you a whopping $ 4997; you may also pay it in 6 installments of $ 997 each. They have a tremendous money-back policy of 30 days with a 100% money-back guarantee. To know more, you can check out their pricing plans and refund policy on the official website.
3. Proven Amazon Course
Proven Amazon Course is another top seller for courses on Amazon FBA. They are specifically designed to instruct beginners and help them start selling from scratch. This course has a lot of content in PDFs and Videos, and they also conduct regular webinars for their users.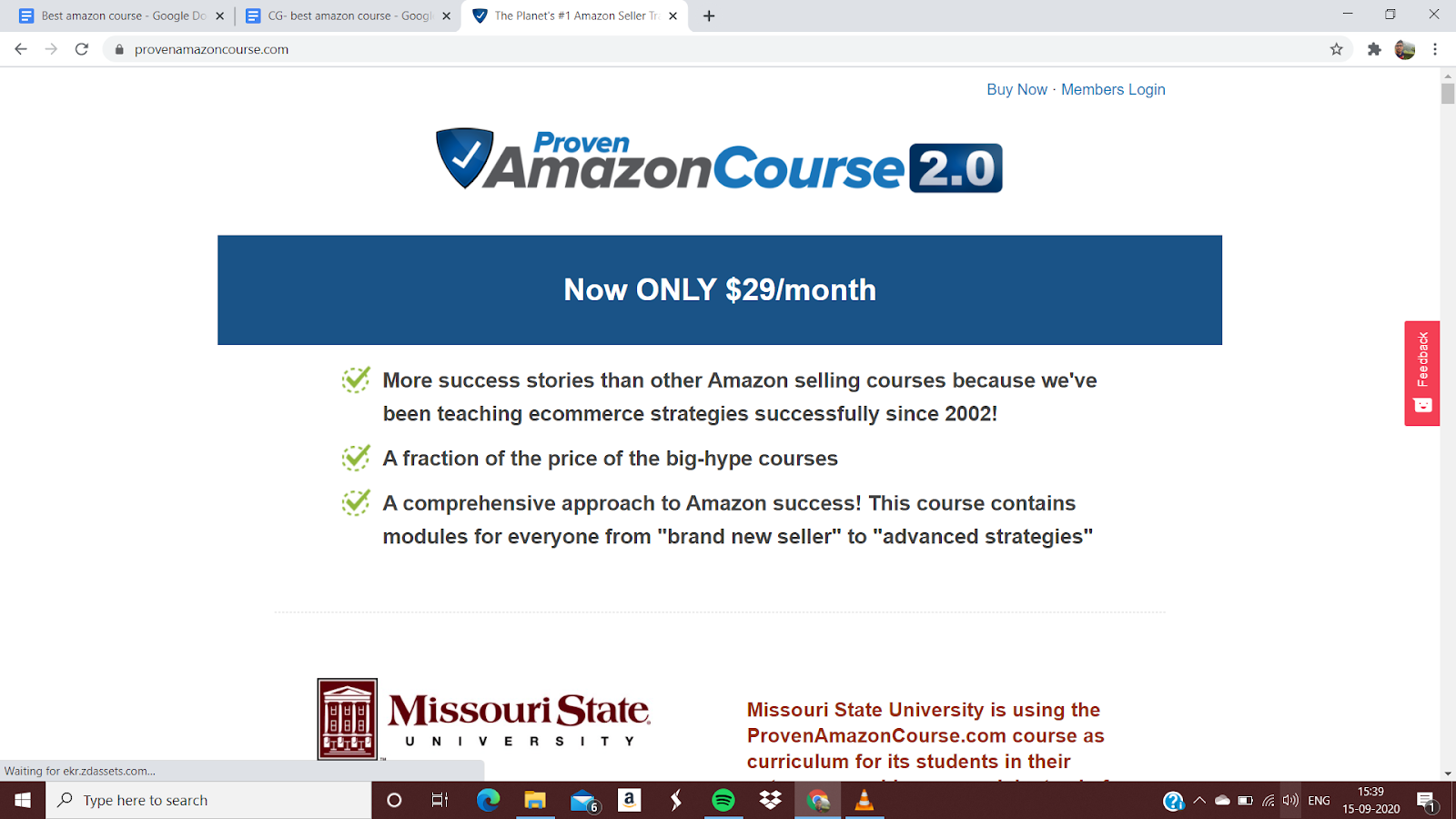 They have a very active Facebook group and other forums to meet active sellers who are also selling on Amazon. You can interact and take inputs from them as well. Jim Cockrum and the other group of experts themselves answer to all your queries in the groups. Interactions with sellers are a unique feature that this course offers, adding to another reason for you to take up this course.
Another great advantage this course has is its affordability, priced at less than $ 1000, a lot of users prefer this course for its great pricing. They have a lot for you to offer, which we highly recommend you to go and check out on their official website.
This course is also added by some of the top universities in their curriculum for teaching their students how to sell on Amazon. Launched in 2009, this course has come a long way with additions and updates for its users.  
It is designed for new sellers, especially those in the U.S. You can also build a global Amazon business with this course's help. It is very cheaply priced at just $ 29 per month. They also let you cancel the subscription at any moment if you are unhappy. 
4. Amazon FBA Ninja
Amazon FBA Ninja is a course by Kevin David, a very well known person in the E-commerce industry. He has developed this excellent platform for users and has established himself to be one of the best mentors to tutor Amazon sellers.
With hundreds of students earning in 6 figures, this course has proven itself to be quite reliable. The videos aren't very long; Kevin keeps himself to the point and keeps it straight forward. They also have a lot of PDFs for their users who are into reading and understanding concepts.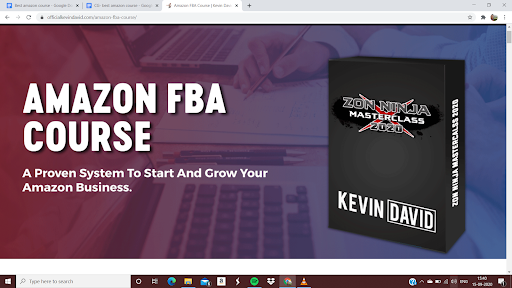 This is a great course that is a step by step guide for users on how they can build a great business from scratch. You also get great learning to place PPC ads, FB ads, and much more. You can be a part of their Ninja group and also get some secret hacks and free updates
Kevin's teaching methods are up to the level, and these are for those in a hurry; his education is quick, and you can get started on the spot and grow rapidly with him.
It is suitable for anyone willing to sell internationally. It is priced at $ 1997 if paid in one payment; if you are looking for installments, it will cost you % 599 in 5 installments. You can also enroll in Paypal credits, where you can buy now and pay nothing for six months. They have a great 14 days money-back guarantee too. 
5. Freedom Ticket by Helium 10
Freedom ticket by Helium 10 is one of the latest courses released in the market that is programmed with all the technological advancements and current market scenarios in mind. Freedom ticket is a very straight forward course that directly teaches you how you can get started with selling on amazon.
We all know that Helium 10 is a great all-in-one tool that supports sellers on Amazon, but you can avail more significant benefits with this collaboration. Freedom ticket and Helium 10 will give you a complete step by step guide on how you can achieve heights on Amazon.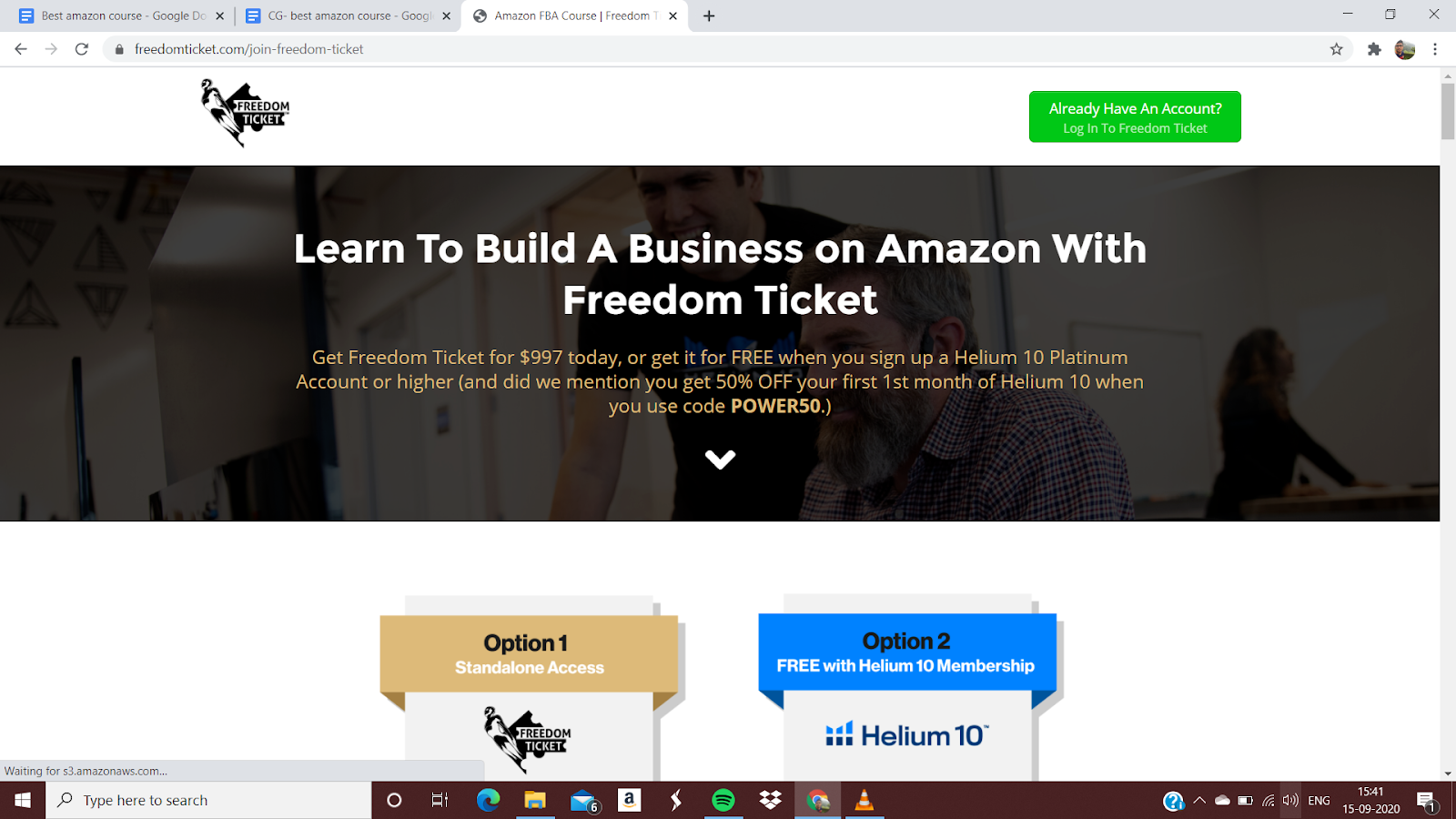 Freedom ticket provides you with an eight-week training, including 60 jam-packed videos, real data, and written notes to get a theoretical understanding of the concepts. They offer you a complete e-commerce education with other secrets and hacks.
The training is led by the very own creator of Freedom ticket Kevin King who gives a lot of in-depth teaching and shares personal industry experience with learners. He will also walk you through every technical aspect of selling on Amazon himself.
They have about 66 modules for students that are a complete e-commerce guide. Talking about the pricing, the Freedom ticket is priced at $997, but if you purchase a helium 10 Platinum, Diamond, or Elite plan, you get a freedom ticket free.
This has a more significant advantage as you get a great selling tool and the right training for you to get started. This is a highly recommended combo for new users. 
6. The Wholesale Formula
Developed by Eric Lambert and Dan Meadors, The wholesale formula is another complete guide for users to learn about Amazon. Started almost six years ago, they have come up with a formula that helps them earn significant profits. They give you a complete guide on how you can get started, find the right and profitable product, and scale up your business rapidly.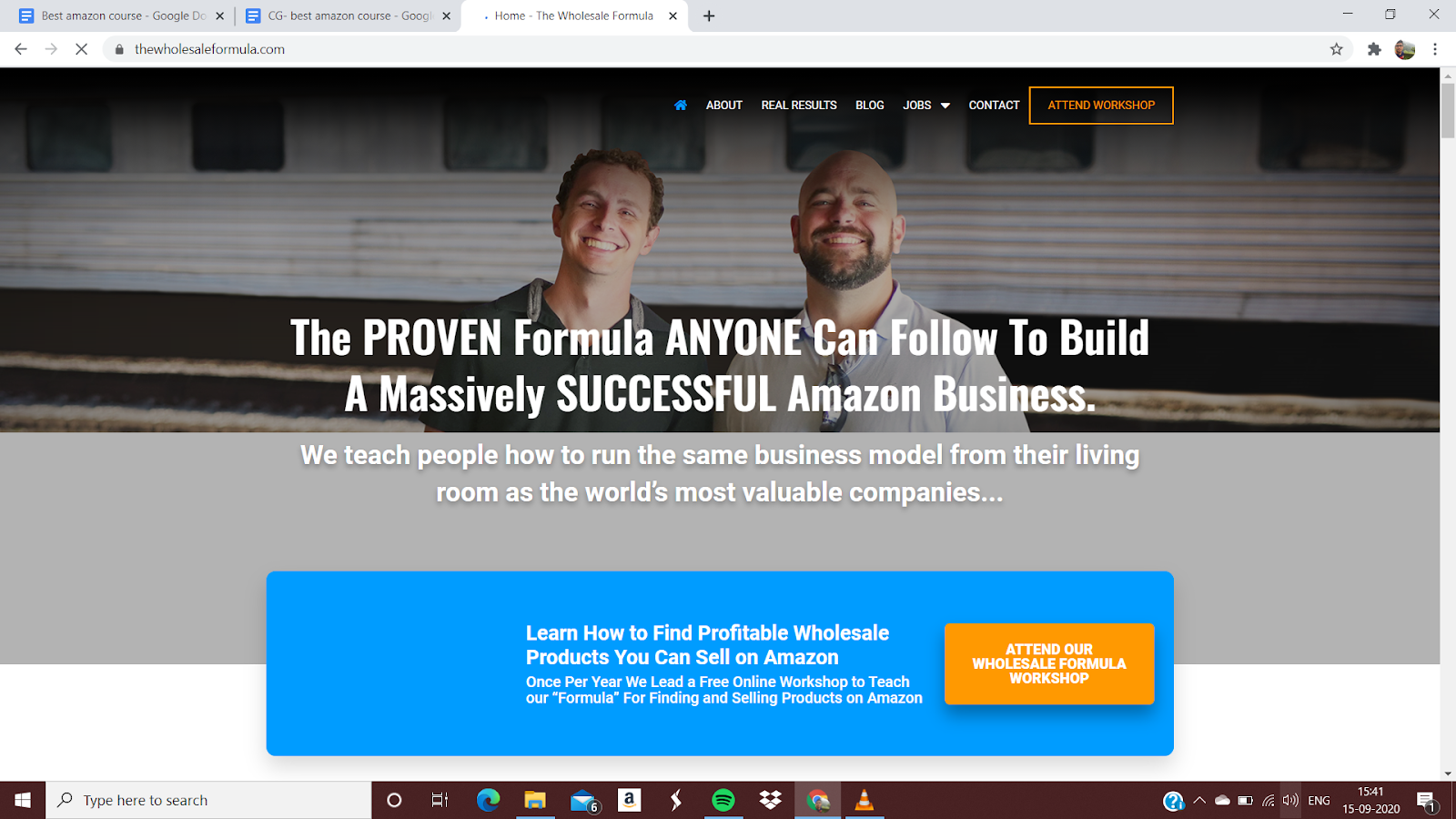 A lot of sellers believe that it is easier to make more money through wholesale than retail. If you are also among them and want to work with Amazon wholesale, then this is the right tool for you. Selling wholesale will help you generate more significant income, but you can quickly learn how to sell wholesale easily and generate revenue with the help of their formula.
Their students have sold more than half a billion-dollar worth products on Amazon as of now. Personally, all Amazon sellers must try and learn wholesaling strategies from these two and start working on it. These two will walk you through a step by step guide on how you can do wholesaling; unlike most courses, they also provide you with a blueprint to get started.
You will get lifetime access to their videos, blueprints, negotiating tricks, and much more with this tool's help. They are available for international sellers as well. Priced at $ 2497 in a one-time payment, this is a great deal for users. They also let you pay in 3 installments of $ 997 each. They have an incredible 30 days; no questions asked money-back guarantee as well.
FAQ'S:
1Q. Is an Amazon FBA Course Necessary to Sell on Amazon?
Ans: There is no such necessity that you must take up an Amazon FBA course to sell on Amazon. However, there are many benefits of taking up an Amazon FBA course; you get a lot of theoretical knowledge. All might not feel that this is necessary, but you also get a great experience from industry experts; they share their views and things. 
2Q. Are These Amazon Online Courses Worth Your Time and Money?
Ans: After knowing these courses very well, one thing is sure that it offers excellent knowledge. Most of the courses are value for money; they are priced low and affordable to suit user needs and are worth the money you are spending.
Whether you go for an online course or a book on How to Sell on Amazon, both are great, but you will not find them valuable without dedication. Also, books only give you knowledge. After reading or completing the course, it is on you to practically apply the knowledge you have gained.
Final Words:
Finding the right course is very important, as what you learn will help you and your business grow. We hope we have helped you in choosing the best course with the help of our blog.
With the help of these courses, as mentioned above, you can quickly learn how to sell on Amazon with their tricks and hacks. You also have excellent knowledge of industry experts. 
Hoping for your fruitful learning experience, any queries concerning Amazon courses can be asked below in our chatbox. We are also looking for your honest feedback and reviews.